Choose from our range of Cambodia holiday packages below that each include your flights, accommodation, and often special bonuses like tours and free upgrades. If you can't find the package you're looking for, contact one of our friendly consultants on 2830 2899 and don't forget to ask about customising a package to suit your needs.
Looking for Cambodia Holiday Packages?
We can't find any online Cambodia holiday deals at the moment but one of our helpful Travel Experts can help you find what you're after! Send us an online enquiry or call us on 2830 2899.
For information on the airlines that offer cheap flights to Cambodia, have a look at our international airline page.
Flights from Hong Kong to Cambodia will disembark at either Siem Reap International Airport (REP) or Phnom Penh International Airport (PNH).
Contained within the borders of modern Cambodia is the ancient city of Angkor. The city was once the heart of the Khmer Empire, stretching through what is now Thailand, Vietnam and Laos from the ninth to the fifteenth centuries. Today the centrepiece of Angkor is the extraordinary Angkor Wat - a remarkable feat of artistry and engineering. Other temples within the ruined city worth exploring are Angkor Thom, the Bayon and Banteay Kdei. The service town for the ancient site is Siem Reap; where you'll find all the necessary tourist facilities.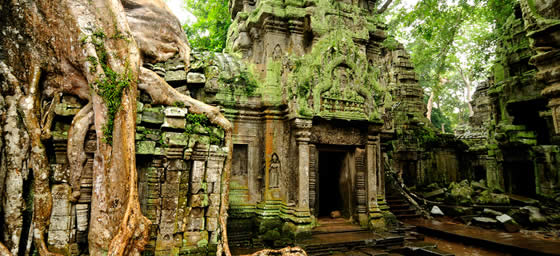 Ta Prohm Temple
After you've explored the ancient legacy, head south either by river or road to the capital, Phnom Penh. The must-see attractions include the Royal Palace, the National Museum of Cambodia and the general riverside promenade area. There are also some fantastic markets in the city where you can shop for lunch, souvenirs or general merchandise. The Central Market has a beautiful Art Deco facade.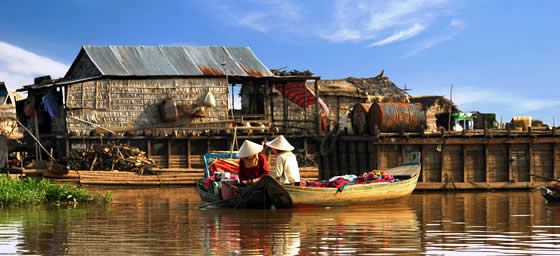 Tonle Lake
For a Cambodian seaside experience, head to Sihanoukville where attractive beaches await to greet curious travellers. There are several glorious beaches to choose from including the Ochheuteal Beach, Victory Beach and Serendipity Beach. On the other hand, check out Otres Beach, which is generally less crowded but just as beautiful as the other options.
Are you ready to explore Cambodia? Check out our flights to Cambodia or contact Flight Centre for great tips on things to do and see on your Asian holiday.