We don't have any products online right now but one of our consultants may be able to help you. Enquire now to get access to great deals all over the world.
Choose from our range of Delhi holiday packages below that each include your flights, accommodation, and often special bonuses like tours and free upgrades. If you can't find the package you're looking for, contact one of our friendly consultants on 2830 2899 and don't forget to ask about customising a package to suit your needs.
Looking for Delhi Holiday Packages?
We can't find any online Delhi holiday deals at the moment but one of our helpful Travel Experts can help you find what you're after! Send us an online enquiry or call us on 2830 2899.
Delhi Airport (DEL)
Flights from Hong Kong to Delhi will disembark at Indira Gandhi International Airport.
Named after the former Prime Minister of India, Indira Gandhi International Airport (DEL) is located 16 kilometres from New Delhi and is the busiest airport in India.
Airport Accommodation: There are a number of hotels located in close proximity to Indira Gandhi International Airport . Book your Delhi Airport accommodation.
Airlines that fly to Delhi
Airlines that offer cheap flights to Delhi from Hong Kong include:
For more information on Delhi holidays check out our Delhi travel guide.
Looking for more than just a flight? A Delhi holiday package includes flights, accommodation, and often other extras like tours or car hire.
Located on the banks of the River Yamuna, Delhi is a city state that comprises Old Delhi and the capital, New Delhi. Old Delhi, as the name suggests, is an ancient city; Delhi is known to have been continuously inhabited since the 6th century BC and even before then. The city's position in South Asia has allowed Delhi to flourish over years as a major trade city. Overtime, immigration and trade has seen the city grow into a cosmopolitan metropolis with a booming economy and population. Today the city's average income is relatively high for its population and Delhi stands proud as a cultural and commercial centre.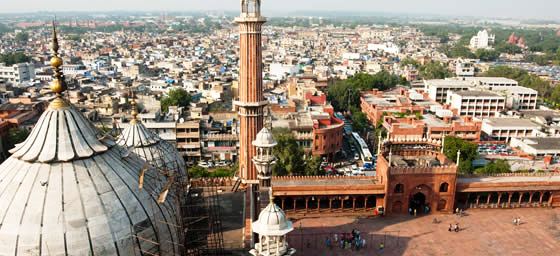 Old Delhi
Old Delhi is a walled city built in 1639 upon the rule of Mughal Emporer Shah Jahan. This city acted as the capital of the Mughal Empire up until 1857 and still contains many monuments from this period. Even in modern times, Old Delhi remains relatively untouched with time. Ancient relics, mosques and forts are scattered throughout, while vibrant bazaars selling spices, sweets, oil and traditional cuisine wait to be discovered in the city's winding lanes.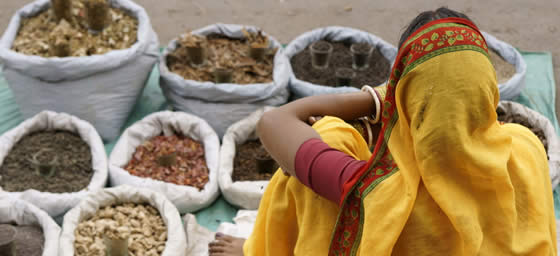 Spices for Sale
Beyond Old Delhi's walls lies India's capital, New Delhi. The new city was built to the south of the old city during British rule in the 1920s. In 1947 when India gained independence from British Rule, New Delhi was declared the country's new capital. As a result, political and commercial interests turned to the imperial city and a number of government buildings, including the offices of the federal government, national museums and art galleries, were established. As a planned British city, New Delhi features smooth roads and colonial buildings. Modern life and skyscrapers have also made their mark on the city as retail chain stores and cinemas light up Connaught Palace and office buildings and hotels stretch towards the sky in Central New Delhi.