We don't have any products online right now but one of our consultants may be able to help you. Enquire now to get access to great deals all over the world.
Choose from our range of Guangzhou holiday packages below that each include your flights, accommodation, and often special bonuses like tours and free upgrades. If you can't find the package you're looking for, contact one of our friendly consultants on 2830 2899 and don't forget to ask about customising a package to suit your needs.
Looking for Guangzhou Holiday Packages?
We can't find any online Guangzhou holiday deals at the moment but one of our helpful Travel Experts can help you find what you're after! Send us an online enquiry or call us on 2830 2899.
Guangzhou Airport (CAN)
Flights from Hong Kong to Guangzhou will disembark at Guangzhou Baiyun International Airport.
Guangzhou Baiyun International Airport (CAN) is China's 2nd busiest and the world's 19th busiest airport, as at 2011. The airport is the main hub of China Southern Airlines and inherited the airport code CAN from the old airport, reflecting Guangzhou's former romanization Canton.
Airport Accommodation: There are a number of hotels located in close proximity to Guangzhou Baiyun International Airport. Book your Guangzhou Airport accommodation.
Airlines that fly to Guangzhou
Airlines that offer cheap flights to Guangzhou from Hong Kong include:
For more information on Guangzhou holidays check out our Guangzhou travel guide.
Amongst the glistening high rises and seemingly inescapable bustle of Guangzhou lie numerous traditional buildings and immaculate gardens in which to find reprieve. One of these inner city escapes is Yuexiu Park, a 212-acre sanctuary consisting of lakes, cultural relics and colourful gardens. Spend a couple of hours exploring this peaceful oasis.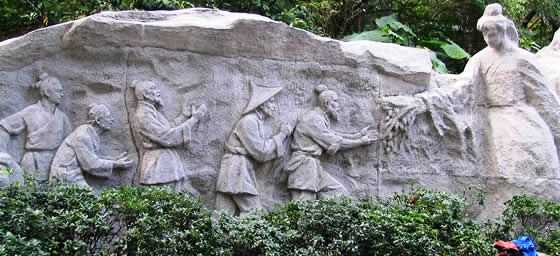 Yuexiu Park Monument
After a morning of sightseeing, what better way to relax than by sampling Guangzhou's world-famous cuisine. The city is home to an irresistible array of dining options, from some of China's best traditional Cantonese meals to tasty dim sum delights, and a few local specialities. There are also numerous French, Indian, Turkish and other international cuisines on offer throughout the city. Stroll along one of Guangzhou's famous food streets like Shangxiajiu Street or Beijing Road.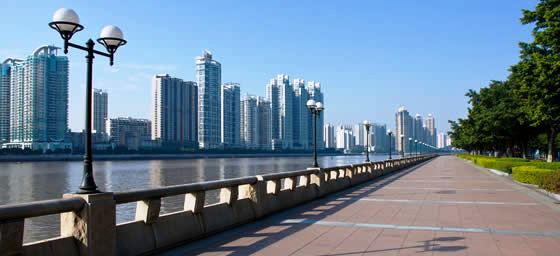 Pearl River Walkway
No trip to Guangzhou is complete without experiencing the Chime-Long Circus. This captivating 90 minute show has a distinct Cirque du Soleil feel and features all sorts of acrobatic feats, dazzling visual effects and death-defying performances.