We don't have any products online right now but one of our consultants may be able to help you. Enquire now to get access to great deals all over the world.
Choose from our range of Hawaii holiday packages below that each include your flights, accommodation, and often special bonuses like tours and free upgrades. If you can't find the package you're looking for, contact one of our friendly consultants on 2830 2899 and don't forget to ask about customising a package to suit your needs.
Looking for Hawaii Holiday Packages?
We can't find any online Hawaii holiday deals at the moment but one of our helpful Travel Experts can help you find what you're after! Send us an online enquiry or call us on 2830 2899.
Hawaii Airport (HNL)
Flights from Hong Kong to Hawaii will disembark at Honolulu International Airport.
Honolulu International Airport (HNL) is the main gateway to the State of Hawaii and is one of the busiest airports in the United States. The airport serves as the principal hub of Hawaiian Airlines, the largest Hawaii-based airline. Hawaiian offers flights between the various airports of the Hawaiian Islands.
Airport Accommodation: There are a number of hotels located in close proximity to Honolulu International Airport. Book your Hawaii Airport accommodation.
Airlines that fly to Hawaii
Airlines that offer cheap flights to Hawaii from Hong Kong include:
When flying into Honolulu, most visitors head straight for the internationally-renowned Waikiki Beach, potentially the most famous site in Hawaii. Simply enjoy the beautiful sand, admire the view from your Hawaii accommodation or consider taking a board out and jumping on the waves. If you're a surfing novice, this is a great place to learn. There are numerous surf schools on the island, including the friendly Hawaiian Fire Surf School.
For an exhilarating Hawaiian experience take a zip line tour through the rainforests. Families will appreciate gliding on a giant flying fox through tree canopies, over waterfalls and down mountain valleys. Alternatively the Waikiki aquarium boasts fascinating marine life including monk seals, sea dragons and a big ticket exhibit of moon jellyfish. Whale-watching cruises, diving trips and snorkelling excursions and also popular on the Hawaiian islands. Once you've seen the sights on Oahu, consider a Hawaii tour to the lesser visited islands including Maui, Big Island, Lanai and Kauai.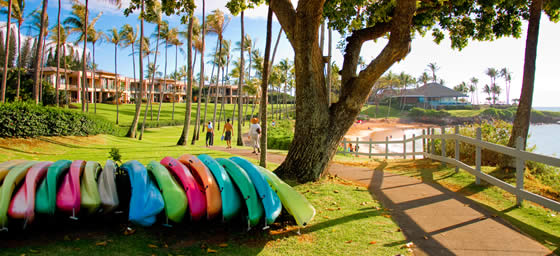 Maui Beach
For a satisfying conclusion to a day's sight-seeing, take a four wheel drive tour to the Mauna Key Summit for the breath-taking sunsets. Standing 3976 feet high, Mauna Key Summit is one of the tallest mountains on the islands. With our flights to Hawaii you can experience all of this and more.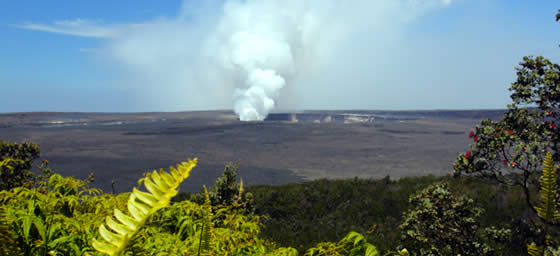 Volcanoes National Park
For more on Hawaii holidays check out our Hawaii travel guide or view our range of Hawaii holiday packages that include flights, accommodation and often other extras like tours or car hire.