We don't have any products online right now but one of our consultants may be able to help you. Enquire now to get access to great deals all over the world.
Choose from our range of Manila holiday packages below that each include your flights, accommodation, and often special bonuses like tours and free upgrades. If you can't find the package you're looking for, contact one of our friendly consultants on 2830 2899 and don't forget to ask about customising a package to suit your needs.
Looking for Manila Holiday Packages?
We can't find any online Manila holiday deals at the moment but one of our helpful Travel Experts can help you find what you're after! Send us an online enquiry or call us on 2830 2899.
Manila Airport (MNL)
Flights from Hong Kong to Manila will disembark at Ninoy Aquino International Airport.
Ninoy Aquino International Airport (MNL) is the main airport serving Manila and its surrounding areas. 
Airport Accommodation: There are a number of hotels located in close proximity to Ninoy Aquino International Airport. Book your Manila Airport accommodation.
Airlines that fly to Manila
Airlines that offer cheap flights to Manila from Hong Kong include:
For more on Manila holidays check out our Manila travel guide or view our range of Manila holiday packages that include flights, accommodation and often other extras like tours or car hire.
Looking for more than just a flight? A Manila holiday package includes flights, accommodation, and often other extras like tours or car hire. View our Manila packages.
In 1571 the Spanish conquistador, Miguel Lopez de Legazpi, established Manila as a colony of Spain, a control that remained in place until 1898. Despite extensive damage during WWII and dozens of destructive earthquakes, the Spanish legacy remains in the distinctive architecture scattered throughout the city. Explore the remnants of the original Spanish settlement at Intramuros, including Plaza de Roma and Fort Santiago.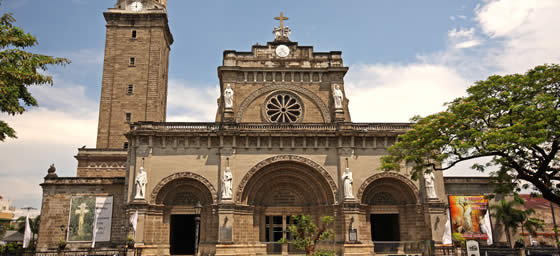 Cathedral in Intramuros
To appreciate the spectacular location on Manila Bay, which feeds out to the South China Sea, wander along the recently renovated Baywalk. It's best to visit late afternoon for the gorgeous sunsets. Once you've appreciated the natural beauty, consider viewing the architectural splendour including the Malacañang Palace, the official residence of the Philippine President and the Manila Hotel, a classic example of architecture from the American colonial period. General Douglas MacArthur was based at the Hotel during World War II until the Japanese occupation. The art deco Manila Metropolitan Theatre opened in 1931 has recently undergone extensive renovations to restore the structure to its former glory.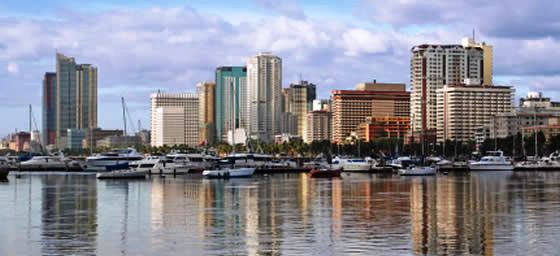 Manila Cityscape
If you enjoy museums then consider wandering through the National Museum of the Philippines, which has an astonishing collection of art, archaeology and zoology. On the other hand, the Metropolitan Museum of Manila is the city's premiere art gallery with art covering everything from tradition through to Hispanic and modern. With our cheap flights to Manila you can explore these museums and more in the Philippine capital.