Choose from our range of Miami holiday packages below that each include your flights, accommodation, and often special bonuses like tours and free upgrades. If you can't find the package you're looking for, contact one of our friendly consultants on 2830 2899 and don't forget to ask about customising a package to suit your needs.
Looking for Miami Holiday Packages?
We can't find any online Miami holiday deals at the moment but one of our helpful Travel Experts can help you find what you're after! Send us an online enquiry or call us on 2830 2899.
Miami Airport (MIA)
Flights from Hong Kong to Miami will disembark at Miami International Airport.
Miami International Airport (MIA) is situated northwest of downtime Miami and serves destinations in southern Florida. Because of its proximity to Central and South America, Miami Airport is a major gateway between North and Latin America.
Airport Accommodation: There are a number of hotels located in close proximity to Miami International Airport. Book your Miami Airport accommodation.
Airlines that fly to Miami
Airlines that offer cheap flights to Miami from Hong Kong include:
Bring your cash, sunscreen, dancing shoes and your brushed-up Spanish to Miami, Florida. This southeastern corner of the US basks in sweltering sunshine in a tropical monsoon climate, has the largest concentration of banks in America and its port is known as the Cruise Capital of the World.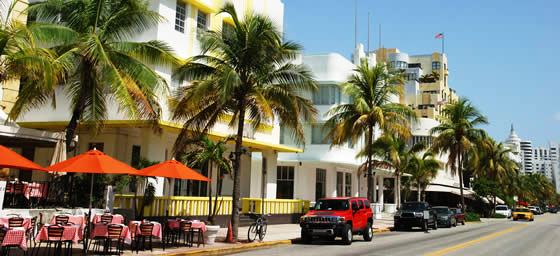 Ocean Drive
Tucked between Biscayne Bay and the Everglades, Miami has the occasional errant crocodile roaming its streets (which may or may not get a write up in the Miami Herald or the El Nuevo Herald). The Caribbean and Latin American influences are steeped in the language, food and music of the area too. Miami Beach, just because, is where every visitor should take a stroll.
Here's a quick guide to things to see and do:
Party on South Beach – this is one lively strip that continues up the Florida coast
Balloon over the Miami skyline – grab a year-round sunrise flight
Airboat over the Everglades – for a hair-raising look at this natural ecosystem
Embark a ship – and cruise into your holiday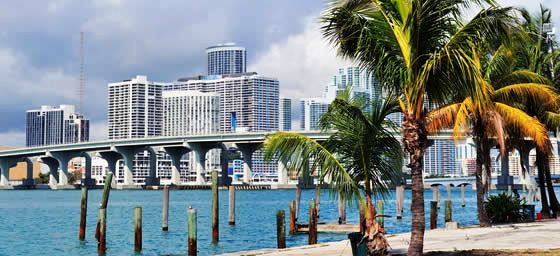 Part of Miami's Skyline
Grab a flight to Miami and join the mayhem or search for a hotel, perhaps the landmark Fontainebleau?
For more information on Miami holidays check out our Miami travel guide.