Choose from our range of Milan holiday packages below that each include your flights, accommodation, and often special bonuses like tours and free upgrades. If you can't find the package you're looking for, contact one of our friendly consultants on 2830 2899 and don't forget to ask about customising a package to suit your needs.
Looking for Milan Holiday Packages?
We can't find any online Milan holiday deals at the moment but one of our helpful Travel Experts can help you find what you're after! Send us an online enquiry or call us on 2830 2899.
Milan Airport (MXP)
Flights from Hong Kong to Milan will disembark at Milano Malpensa Airport.
Milano Malpensa Airport (MXP) is the largest of three airports in Milan and the second busiest airport in Italy. Previously known as Aeroporto Città di Busto Arsizio, Milano Malpensa Airport has two terminals and operates domestic, international, charter and cargo flights.
Airport Accommodation: There are a number of hotels located in close proximity to Milano Malpensa Airport. Book your Milan Airport accommodation.
Airlines that fly to Milan
Airlines that offer cheap flights to Milan from Hong Kong include:
If all the world is a stage, there's a special spot reserved for a Milanese fashion runway. Armani, Gucci, Pucci, Dolce & Gabbana and a host of other giants come out to play twice a year during the spring/summer and autumn/winter fashion weeks. Die-hard, wannabe, and I'm-too-cool-for-school fashionistas swarm to the stages, events, after parties and boutiques. Though this creative flair is not limited to fashion – there are museums, galleries and creative entrepreneurs who add to Milan's cultural expression.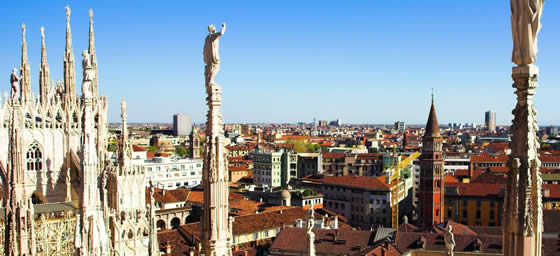 City Rooftops
It's a city that can feel quite business-like, after all Milan is Italy's financial hub, and extensive bombing during World War Two means there's not quite the architectural romance of other Italian cities. But there are still some stunning historical remnants: The Duomo – the massive Gothic cathedral in white marble, begun in 1386; Saint Maurice – a fully-frescoed Renaissance church; and the beautiful, famous opera house (exactingly restored) La Scala.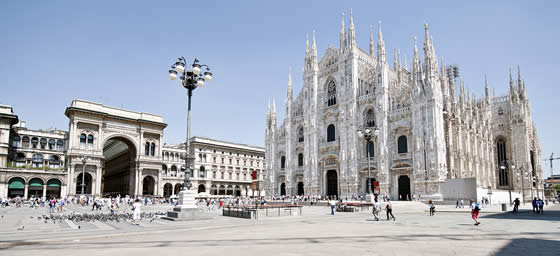 Piazza del Duomo
To see the full force of football fervour, be sure to get a ticket to watch one of the city's 2 soccer teams – Inter Milan and AC Milan – at the Stadio Giuseppe Meazza, known locally as 'San Siro'. Rivalry between the teams is fierce and tickets for most games are available both in advance and on the day.
Grab a flight to Milan if you're set to go or if you'd like to talk more, give Flight Centre a call on 2830 2899.
For more information on Milan holidays check out our Milan travel guide.