Choose from our range of Osaka holiday packages below that each include your flights, accommodation, and often special bonuses like tours and free upgrades. If you can't find the package you're looking for, contact one of our friendly consultants on 2830 2899 and don't forget to ask about customising a package to suit your needs.
Looking for Osaka Holiday Packages?
We can't find any online Osaka holiday deals at the moment but one of our helpful Travel Experts can help you find what you're after! Send us an online enquiry or call us on 2830 2899.
Osaka Airport (KIX)
Flights from Hong Kong to Osaka will disembark at Kansai International Airport.
Kansai International Airport (KIX) is Osaka's primary international airport, as well as serving the cities of Kyoto and Kobe. Located on an artificial island in Osaka Bay, the airport also operates domestic flights despite only having one terminal.
Airport Accommodation: There are a number of hotels located in close proximity to Kansai International Airport. Book your Osaka Airport accommodation.
Airlines that fly to Osaka
Airlines that offer cheap flights to Osaka from Hong Kong include:
Looking for more than just a flight? An Osaka holiday package includes flights, accommodation, and often other extras like tours or car hire. View our Asia Packages.
For more information on Osaka holidays check out our Osaka travel guide.
Osaka is Japan's third largest city and the central metropolis of the Kansai region. Though very much an industrial Japanese city, Osaka still has plenty to offer travellers in the way of historic sites, modern marvels and delicious cuisine.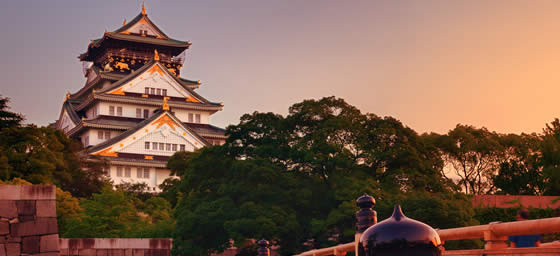 Osaka Castle
The city's most famous attraction is the Osaka Castle, also known as Osaka-jō, dating back to 1583. All together the castle contains thirteen structures with the main castle building spanning five stories above and three stories below ground. The castle is open to the public and is particularly popular during festivals such as Hanami which takes place cherry blossom season.
Another of Osaka's notable landmarks is Kaiyukan, the city's aquarium. With 27 tanks and 16 main exhibits, the Osaka Aquarium is one of the largest in the world. Amongst the aquarium's biggest draw cards are sea otters, king penguins, giant spider crabs and a whale shark.
While Osaka has plenty to see, you'll also want to take some time to sit down and enjoy the flavours of this Japanese city. Osaka's food culture is so strong that the city is commonly regarded as the culinary capital of Japan. Most of Osaka's restaurants are concentrated in the main entertainment districts, and range in cuisine from simple American style coffee shops to tradition food and multicultural cuisine. Highlight local dishes to try in Osaka include the popular Takoyaki (a small octopus dumpling), the hot pot dish Tecchiri and the popular meat dish of Shabu Shabu which originates from Osaka.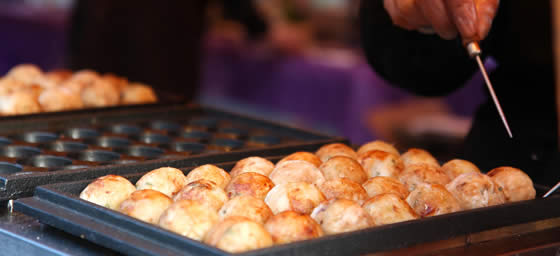 Takoyaki Balls