Choose from our range of Paris holiday packages below that each include your flights, accommodation, and often special bonuses like tours and free upgrades. If you can't find the package you're looking for, contact one of our friendly consultants on 2830 2899 and don't forget to ask about customising a package to suit your needs.
Looking for Paris Holiday Packages?
We can't find any online Paris holiday deals at the moment but one of our helpful Travel Experts can help you find what you're after! Send us an online enquiry or call us on 2830 2899.
Paris Airport (CDG)
Flights from Hong Kong to Paris will disembark at Paris-Charles de Gaulle Airport.
Paris-Charles de Gaulle Airport (CDG) is a major international aviation hub located in Paris. Taking its name from the founder of the French Fifth Republic, Paris-Charles de Gaulle is the largest airport in France and the second busiest airport in Europe. The airport is also a major hub for Air France.
Airport Accommodation: There are a number of hotels located in close proximity to Paris-Charles de Gaulle Airport. Book your Paris Airport accommodation.
Airlines that fly to Paris
Airlines that offer cheap flights to Paris from Hong Kong include:
As a contender for the crown of the world's most romantic city, Paris offers many opportunities to appreciate the beauty of this gorgeous city. The best way to see the city is on a guided Paris tour, where you can be lead down the Champs-Élysées from the Arc de Triomphe, to Place de la Concorde then through Jardin des Tuileries to the Musée du Louvre, a former palace and now Paris's most famous museum. The Lourve is home to the Mona Lisa, the Venus de Milo and the Nike of Samothrace. Climb the Eiffel Tower for panoramic views across the city, before paying your respects to Napoleon at Les Invalides.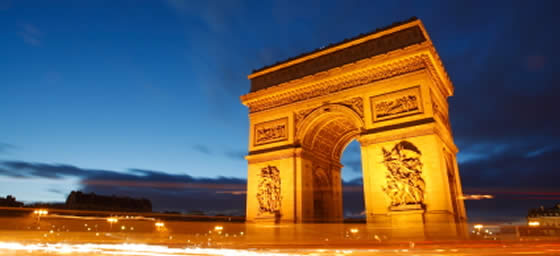 Arc de Triomphe
Paris boasts dozens of museums including the Musee d'Orsay with an incredible impressionist art collection, the Rodin Museum celebrating the sculptor's work and the Picasso Museum containing works by the Spanish master. Close by to these attractions you'll find a great range of Paris accommodation options including hotels, boutique apartments and hostels.
The two most famous churches include the gothic Notre Dame with the cute gargoyles and Sacré Coeur in the north sitting at the highest point of the city. Below Sacré Coeur is a trendy artisan locale where aspiring Toulouse-Lautrec's ply their trade.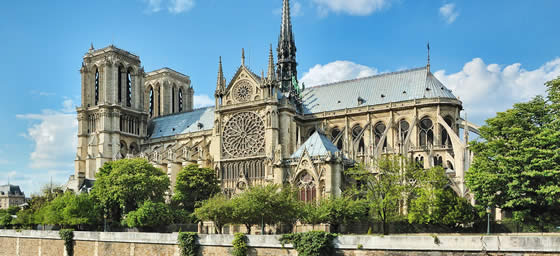 Notre Dame
For more on Paris holidays check out our Paris travel guide or view our range of Paris holiday packages that include flights, accommodation and often other extras like tours or car hire.