Choose from our range of Vancouver holiday packages below that each include your flights, accommodation, and often special bonuses like tours and free upgrades. If you can't find the package you're looking for, contact one of our friendly consultants on 2830 2899 and don't forget to ask about customising a package to suit your needs.
Looking for Vancouver Holiday Packages?
We can't find any online Vancouver holiday deals at the moment but one of our helpful Travel Experts can help you find what you're after! Send us an online enquiry or call us on 2830 2899.
Vancouver Airport (YVR)
Flights from Hong Kong to Vancouver will disembark at Vancouver International Airport .
Vancouver International Airport (YVR) is located on Sea Island, south of the centre and serves around 17 million passengers a year. The terminal features an extensive collection of Pacific Northwest Coast Native art.
Airport Accommodation: There are a number of hotels located in close proximity to Vancouver International Airport. Book your Vancouver Airport accommodation.
Airlines that fly to Vancouver
Airlines that offer cheap flights to Vancouver from Hong Kong include:
The commercial centre of Vancouver is located in the north of the city, overlooking the beautiful Vancouver Harbour. Enjoy strolling through the streets to admire the impressive modern architecture such as the buildings around Robson Square and Harbour Centre. The much lauded Canada Place on the waterfront was constructed for the 1986 Expo and remains one of Vancouver's iconic structures.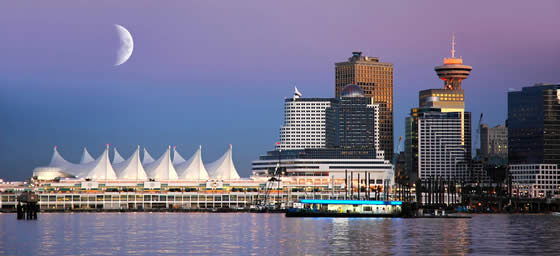 Canada Place
To the northwest of the downtown area is the expansive Stanley Park, which presents a wonderful escape with dozens of forested trails. Located within the park is the impressive Vancouver Aquarium and a putt putt golf course. Alternatively, consider investigating Sunset Beach, a picturesque strip on the southwest side where you'll find a great range of Vancouver accommodation. There are a number of other beaches just outside the downtown area of the city including Kitsilano, Jericho and Spanish Banks.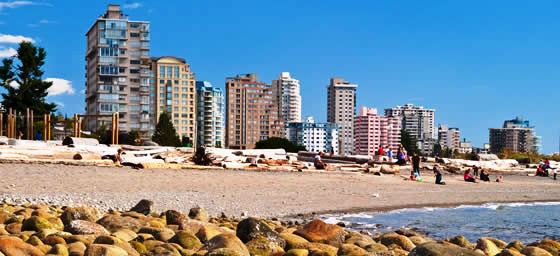 One of Vancouver's Many Beaches
For winter sports, Vancouver is the ideal launching pad for the ski resort of Whistler Blackcomb, one of the world's largest alpine resorts. In summer the region offers spectacular hiking opportunities through the famed Rocky Mountains. Alternatively consider a Vancouver tour such as a guided trip to British Columbia's capital, Victoria on Vancouver Island. Victoria features wonderful classic English architecture, while the island itself offers a plethora of wilderness experiences. With our cheap flights to Vancouver you can explore these sights and many more.
For more on Vancouver holidays check out our Vancouver travel guide or view our range of Vancouver holiday packages that include flights, accommodation and often other extras like tours or car hire.