Choose from our range of Venice holiday packages below that each include your flights, accommodation, and often special bonuses like tours and free upgrades. If you can't find the package you're looking for, contact one of our friendly consultants on 2830 2899 and don't forget to ask about customising a package to suit your needs.
Looking for Venice Holiday Packages?
We can't find any online Venice holiday deals at the moment but one of our helpful Travel Experts can help you find what you're after! Send us an online enquiry or call us on 2830 2899.
Venice Airport (VCE)
Flights from Hong Kong to Venice will disembark at Venice Marco Polo Airport.
Venice Marco Polo Airport (VCE) is an Italian airport located just north of Venice. Venice Marco Polo is the bigger of the two airports servicing Venice, and takes its name from the Venetian explorer Marco Polo.
Airport Accommodation: There are a number of hotels located in close proximity to Venice Marco Polo Airport. Book your Venice Airport accommodation.
Airlines that fly to Venice
Airlines that offer cheap flights to Venice from Hong Kong include:
Venice looks as it did centuries ago – it's an engineering marvel with a high concentration of masterpieces and verve. There may be more pigeons squabbling on the cobblestone squares, and there are certainly more tourists, but getting lost among the 118 islands in the central district called 'Sestieri', is likely and thankfully enjoyable. Your transportation options include foot, vaporetti (water buses), gondolas and water taxis.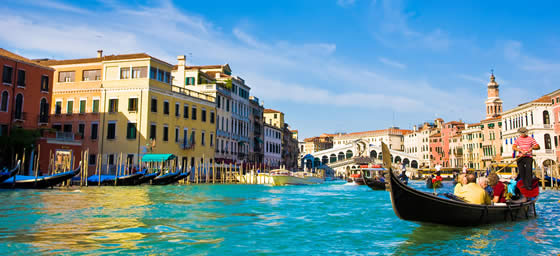 Venetian Gondolas on the Grand Canal
Highly-visited sites (with good reason) include:
Doge's Palace (Palazzo Ducale) on San Marco Square – the seat of power for the Venetian Republic for almost 1000 years, grab a guided tour called Secret Itinerary to see Casanova's jail
Saint Mark's Basilica (Basilica di San Marco) – adjacent to the Doge's Palace, this is a stunning example of Byzantine architecture and was formerly the chapel of the Doge
Rialto Bridge (Ponte di Rialto) – one of the main bridges over the Grand Canal, more than 800 years old
Venetian Lagoon islands of Murano and Burano – Burano sports pretty pastel coloured houses and a lace museum; Murano is known for its beautiful glass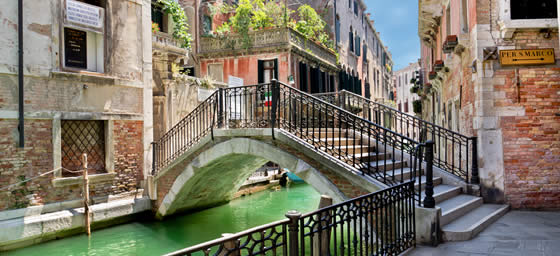 Quaint Venetian Architecture
Grab a flight to Venice if you're set to go or if you'd like to talk more, give Flight Centre a call on 2830 2899.
For more information on Venice holidays check out our Venice travel guide.