Choose from our range of Washington DC holiday packages below that each include your flights, accommodation, and often special bonuses like tours and free upgrades. If you can't find the package you're looking for, contact one of our friendly consultants on 2830 2899 and don't forget to ask about customising a package to suit your needs.
Looking for Washington DC Holiday Packages?
We can't find any online Washington DC holiday deals at the moment but one of our helpful Travel Experts can help you find what you're after! Send us an online enquiry or call us on 2830 2899.
Washington DC Airport (DCA)
Flights from Hong Kong to Washington DC will disembark at Ronald Reagan Washington National Airport.
The Ronald Reagan Washington National Airport (DCA) is situated across the Potomac River in the state of Virginia, south of America's capital. The airport was renamed in 1998 in honour of the former President.
Airport Accommodation: There are a number of hotels located in close proximity to Ronald Reagan Washington National Airport. Book your Washington DC Airport accommodation
Airlines that fly to Washington DC
Airlines that offer cheap flights to Washington DC from Hong Kong include:
Washington DC; where the great American dream was born, documented and put on display. And people have been visiting ever since – standing by the gates at the white house to catch a glimpse of the latest president walking his dog, strolling through the Lincoln and Jefferson Memorialss wandering through the Washington Monument. Washington DC isn't short on notable attractions.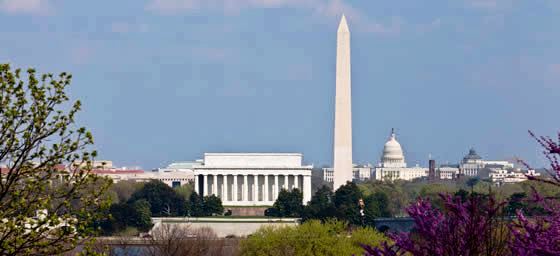 Washington Monument
But more than the iconic buildings and statues, the USA capital is a sea of activity. A guided tour of Capitol will prove that. Sitting atop Capitol Hill, the white, dome shaped United States Capitol building is the meeting place of the US Congress and the perfect place to get your inevitable dose of USA politics.
But there's more to Washington than senators at lunch. The city even has a sexy side. You just have to know where to look – like the International Spy Museum. Wander the museum incognito and spy the KGB lipstick pistols and other James Bond-style gadgets that are on display. Other museum items you won't want to miss out on include Dorothy's iconic red slippers from The Wizard of Oz, the Hope diamond and Apollo 11 artefacts, all found at the Smithsonian Museums.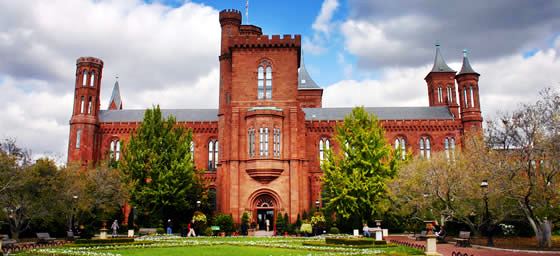 Smithsonian Museum
After days spent at museums and monuments, take the green or yellow line to the U Street Corridor to let off some steam. It is here that restaurants bustle, live music spills out into the street and bars serve cocktails well into the night. Of all of U Street's establishments though, none are more beloved than Ben's Chili bowl, an old-school family run restaurant that has been serving chilli-dogs since the late fifties.
Looking for more than just a flight? A Washington DC holiday package includes flights, accommodation, and often other extras like tours or car hire. View our Washington packages.
For more information on Washington holidays check out our Washington travel guide.