Looking for Mauritius Holiday Packages?
We can't find any online Mauritius holiday deals at the moment but one of our helpful Travel Experts can help you find what you're after! Send us an online enquiry or call us on 2830 2899.
We don't have any products online right now but one of our consultants may be able to help you. Enquire now to get access to great deals all over the world.
Take an extravagant break and explore this beautiful island
This modern day slice of idyll, east of Madagascar and southeast of the Seychelles, has been explored by the Portuguese and colonised by the Dutch, French and British. The layering of historic sites, cultures and topographic variances across the island make it a fascinating and beautiful one to explore. Independence was gained in 1968 and the capital, Port Louis, is Africa's wealthiest city. Port Louis' collection of preserved colonial buildings is attractive and it boasts a bustling market. Shopping at the Caudan Waterfront is also popular.
Wish You Were Here?
Of course, many book a holiday to Mauritius to dive, snorkel, swim and waterski cobalt-blue waters off pristine beaches. Glass-bottomed boating at Blue Bay is rewarding and you can say hello to the dolphin pod at Tamarin Beach if you go for a surf. This 45-kilometre by 65-kilometre island also sports 700 species of native plants and the option to hike in virgin forest in Black River Gorges National Park. French and English will get you by in Mauritius and if you want to keep plans super simple, grab a Mauritius holiday package.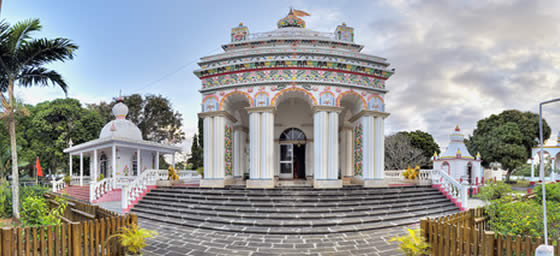 Hindu Temple at Triolet